Developments
Suffering, yesterday, as a runny nose took control, and left me really not in the mood for doing much of anything.
Hurray.. :\
I spent what dev-time I could manage, working on Greenie's Mini Quest/Little Adventure. For starters, I gave it it's proper original name! Always seemed silly that the game should have two titles, so I settled on Little Adventure, since that was the name in the logo. (eg, that was easier!!)
Next, I tackled the level generator, making levels a little tougher overall, and I also set a 9-item limit on how many objects you can carry between levels. (TNT, Keys and Spells)
As such, the newer version is a little tougher to play through, but hopefully not too tough.
I gradually uploaded it through the day, and it should be available on your nearby OUYA/Gamestick store soon'ish.
Meanwhile, on GameStick…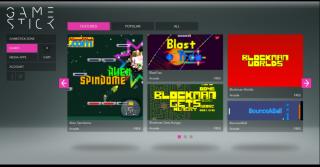 They've had a ME day, as they simultaneously released the 9 games I've been fixing up over the past week or so.
Over the next few weeks there should hopefully be more of the same. And hopefully some other folk's games, too, because otherwise that'll start to look rather silly!!!
(The OUYA editions are being released, instantly, as they pass through review, whereas GameStick tend to have more specific release days.)
If you're interested in playing the many many AGameAWeek games on your telly, be sure to grab either an OUYA or a GameStick, and you'll be sorted!