Aaah, the familiar sound of squelching!!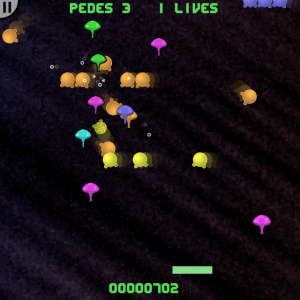 The gameplay is easy on this one.
Throw the ball at the oncoming Centipedes to smash them to pieces. You can then additionally bounce the flailing pods about, to do extra damage, and cause general onscreen insanity!
Oh the fun!!
You can Download C3ntipong Here for Windows and Android. There's also a browser based HTML5 edition, too, if you can't be arsed with the download.

-=-=-
Additional Notes
Notes about Windows Version
Bit of an odd resolution on this one. The Windows edition opens at an odd square sized 640×640, which for some older systems might prove to be a wee bit too quirky. Apologies if it breaks. Let me know!
You can, of course, resize the window to any size you'd like, and the gameplay should snuggly fit itself to fit, in the same way that Cardagain did, last week. Obviously, you won't want to be making the window into stupid size, like 1920×3! But anything nice and big, it'll still fit.
The gameplay might be harder at wider resolutions.. or you might find it easier. I'm not sure. it's all down to taste, I guess!
Notes about Android Version
This should be playable on your device, assuming your device is running a half-decent version of Android, and isn't some rubbish bucket of garbage like my HTC Wildfire is.
I've been informed that the Tilt is the wrong way around on certain devices. I'm currently trying to figure out the best way to fix that. Keep your eye on AGameAWeek for future updates.
Any issues, let me know.
Notes about HTML5 Version
C3ntipong uses a lot of sprite recolouring, and HTML5 isn't very good at sprite recolouring. This leads to a fair bit of slowdown once things get busy. If you can run either the Windows or Android versions, do that instead!
-=-=-
AGAW Scoring : 6 weeks, 6 games! So far, so good!