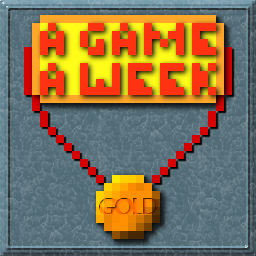 Aaah, March 6th.
A day that will forever live in my memory.
Want to know what happened to me, this time last year? You can read all about it
right here!
March 6th was when it all began.
Hmm..
Oddly enough, I
did
in fact manage to post a game, last March 6th! It was late Monday night/Tuesday morning, I'd had a spectacularly rough day, but I still bothered to post a game.
Then it all went downhill, and AGameAWeek was officially cancelled for the rest of the year.
No matter, it's all coming together, this year!-=-=-
2012 - Mental Psychic Pulling Forces
A fun little mouse-based game, where you fling plates around the arena to score points.
Hit the counters, then bash the aliens for bonus points!
It's quite a fun game, this, actually.. I'd forgotten all about it!
2007 - Picross
A simple little remake of a puzzle game that I couldn't stop playing on the DS.
If you have a DS or 3DS, I highly recommend getting a Picross game for the device. Available from all good eShops!
..it doesn't work as well on iPhings, due to lack of Stylus... grrr..
Views 14, Upvotes 0, 6th March, 2013
Agameaweek Gold